Brake Repair No Appointment Needed near Fairfax, VA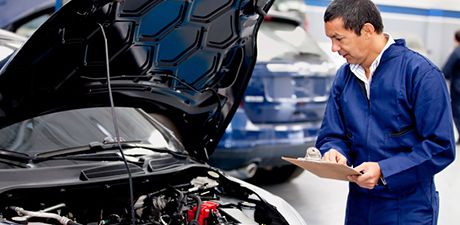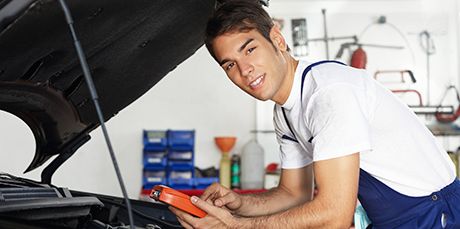 Have you noticed that you've been having to use more force when braking your vehicle lately? If this is the case, then it's likely time that you receive a brake inspection and repair. One of the most vital parts of your car are the brakes. Failing to come to a complete stop in certain situations can be detrimental, which is why your local dealership, Honda of Chantilly, offers brake repair with no appointment needed!
One of the most important safety features of your vehicle are the brakes. If these are not in working order then your car can become a hazard to not only you, but other people. You don't want the brakes of your vehicle to fail to act when you need it most, so getting them checked every so often or when you sense a change is ideal. If you have recently noticed a loss of grip when braking, a low brake pedal, squealing or screeching when you come to a stop, then now is the time to come into our dealership, so that our experts can inspect this essential mechanism.
Let's go into a bit of detail in regard to how the brake system of your car works. Basically when you apply the brakes this allows the brake fluid to start the systems that push onto the brake disc rotor, which then, in turn, makes your car come to a stop. If any of these components are not in top condition, then your vehicle may be experiencing problems when braking, or begin to in the near future. It's important to fix the issue before it gets any worse!
Fortunately, here at Honda of Chantilly, we are known for our excellent and convenient service, which is why we implemented the ability for you to bring your precious vehicle in to get your brakes inspected and repaired without making an appointment. We also often feature incentives, so that you can easily afford the brake service! To get a look at our current promotions move your cursor over to the Service tab and move your arrow down to the Brakes Service Specials section. From here you can select the blue button, so you'll be directed to a number of service coupons. With this, you can even receive other services on your car when you bring it in for a brake repair. We do everything we can to make your life a little easier!
So, if you are experiencing trouble when stopping, head over to Honda of Chantilly for our brake repair no appointment needed near Fairfax, VA. We take care of our customers cars as if they were our own! You'll immediately realize why we received the Edumund 5 Star Award, the moment you step in our store. We are conveniently located near Costco, at 4175 Stonecroft Blvd. in Chantilly, VA. Our staff is ecstatic to meet you!
Sales Hours
571-748-5073
| | |
| --- | --- |
| Monday | 9:00 am - 9:00 pm |
| Tuesday | 9:00 am - 9:00 pm |
| Wednesday | 9:00 am - 9:00 pm |
| Thursday | 9:00 am - 9:00 pm |
| Friday | 9:00 am - 9:00 pm |
| Saturday | 9:00 am - 7:00 pm |
| Sunday | 12:00 pm - 5:00 pm |
Sales Hours
571-748-5073
| | |
| --- | --- |
| Monday | 9:00 am - 9:00 pm |
| Tuesday | 9:00 am - 9:00 pm |
| Wednesday | 9:00 am - 9:00 pm |
| Thursday | 9:00 am - 9:00 pm |
| Friday | 9:00 am - 9:00 pm |
| Saturday | 9:00 am - 7:00 pm |
| Sunday | 12:00 pm - 5:00 pm |
Testimonials
GOOGLE
8-6-2020
GOOGLE
8-3-2020
YELP
8-3-2020
GOOGLE
8-2-2020
GOOGLE
8-1-2020
GOOGLE
7-31-2020
GOOGLE
7-31-2020
GOOGLE
7-30-2020
GOOGLE
7-30-2020
GOOGLE
7-30-2020
GOOGLE
7-29-2020
GOOGLE
7-29-2020
GOOGLE
7-29-2020
GOOGLE
7-29-2020
GOOGLE
7-29-2020
GOOGLE
7-28-2020
GOOGLE
7-28-2020
GOOGLE
7-28-2020
GOOGLE
7-28-2020
GOOGLE
7-27-2020
GOOGLE
7-27-2020
YAHOO
7-26-2020
GOOGLE
7-26-2020
YELP
7-26-2020
YELP
7-26-2020
GOOGLE
7-26-2020
GOOGLE
7-26-2020
YELP
7-26-2020
GOOGLE
7-26-2020
GOOGLE
7-25-2020
GOOGLE
7-25-2020
GOOGLE
7-24-2020
GOOGLE
7-24-2020
GOOGLE
7-22-2020
GOOGLE
7-22-2020
GOOGLE
7-21-2020
GOOGLE
7-21-2020
YELP
7-20-2020
GOOGLE
7-20-2020
YELP
7-20-2020
GOOGLE
7-20-2020
GOOGLE
7-20-2020
YELP
7-20-2020
GOOGLE
7-19-2020
GOOGLE
7-18-2020
Read More