2016 Honda Accord for Lease near Woodbridge, VA
Test Drive and Lease the 2016 Accord Today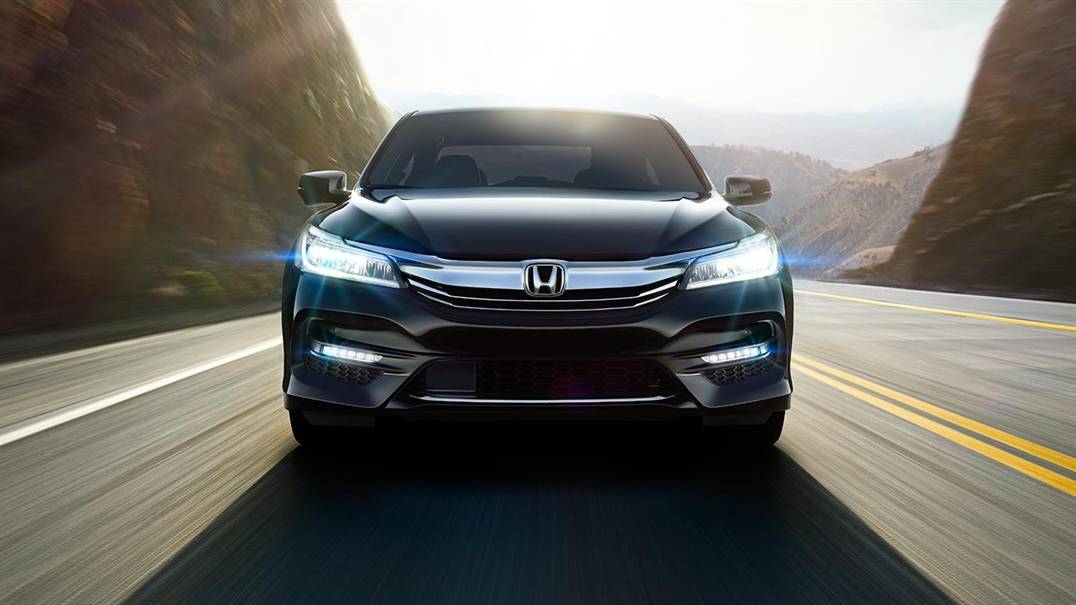 The 2016 Honda Accord is the latest addition to the Accord family, which boasts a refined look and feel to this classic sedan. With state-of-the-art features and a bold look, the 2016 Accord can be all yours at an affordable price. When you come to Honda of Chantilly, the 2016 Honda Accord for lease near Woodbridge, VA, is something you need to get your hands on – and fast. This brand-new car is sitting out on our lot, which you can be driving home today at a not so brand-new price.
The 2016 Accord makes a statement in the front and the back. With a freshly polished front, redesigned rear taillights, and available LED fog lights, this sedan is surely making a comeback. Top it off with available 19-inch Alloy wheels and standard chrome door handles, and you've got yourself a ride of captivating functionality.
The interior amenities provide for a comfortable, yet stylish, way of driving. The driver's seat offers 10-Way Power adjustments with a 2-position memory function and available Power Lumbar Support, which allows you to achieve the most ideal driving position. Sit in luxury on the available leather-trimmed seats, and available heated seats – which are even offered for your backseat passengers as well. When you're all comfy and ready to go, sit back and enjoy the ride with AppleCarplay®1, Android Auto™2, Pandora®3 capability, and Bluetooth®4 compatibility – all of which can be accessed through the available 7-inch Display Audio Screen.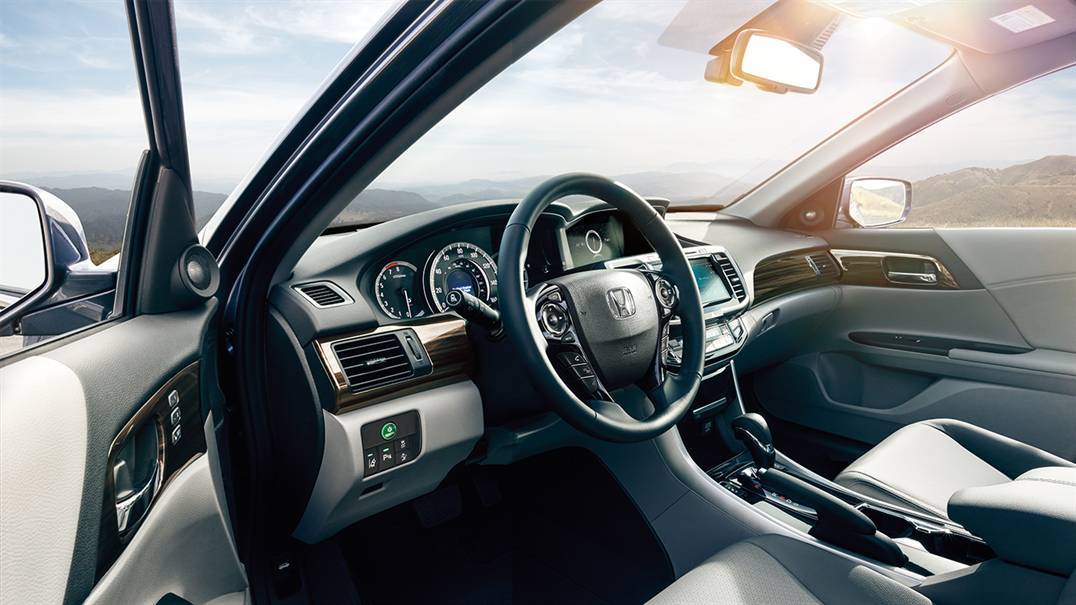 All of these impressive features can be yours in a few simple steps. The 2016 Honda Accord for lease near Woodbridge, VA, is a sedan full of enthralling capability that comes at an affordable price. Leasing is a great option if you're looking for a short-time commitment. When you lease the 2016 Accord, you pay towards the depreciation of the car on a monthly basis, which equates to the duration of your leasing agreement – which is roughly 2-3 years. This saves you a good chunk of money than if you were to finance the Accord.
Once your lease is up, you can do a number of things. If you loved the 2016 Accord, you can make an offer to purchase it at a reduced price. Or, if you're still in the market to lease, you can lease the latest version of the Accord, or a different Honda vehicle altogether. Of course, you're always able to just walk away once your lease agreement is up because you're essentially just borrowing the vehicle from our dealership. Leasing gives you flexibility and affordability all in one, which makes driving home in a new car a little more realistic.
However, there are always consequences. When it comes to leasing, there are a few things you need to remember. There is a mileage limit for any leasing agreement, of which you determine before your agreement even begins. There is also the condition of the vehicle that gets taken into consideration, such as if you've kept care of it during the time of your agreement. If you break a lease early, there are penalties involved, as well.
Here at Honda of Chantilly, our Finance Department are experts at what they do and will do whatever it takes to help you in the leasing process. Feel free to drop in to test drive the 2016 Honda Accord for lease near Woodbridge, VA, we are located at 4175 Stonecraft Blvd.
1. Depending on use, Apple CarPlay can share certain user and vehicle information (e.g., vehicle location, speed and other operating conditions) with the connected iPhone. See Apple's privacy policy for details regarding Apple's use and handling of data uploaded by CarPlay. Use of CarPlay is at user's own risk, and is subject to agreement to the CarPlay terms of use, which are included as part of the Apple iOS terms of use. CarPlay vehicle integration is provided "as is," and Honda cannot guarantee CarPlay operability or functionality now or in the future due to, among other conditions, changes in CarPlay software/Apple iOS, service interruptions, or incompatibility or obsolesce of vehicle-integrated hardware or software. See dealer for details. Only use CarPlay when conditions allow you to do so safely.
2. Depending on use, Android Auto can share certain user and vehicle information (e.g., vehicle location, speed and other operating conditions) with Google and its service providers. See Google privacy policy for details regarding Google's use and handling of data uploaded by Android Auto. Use of Android Auto is at user's own risk, and is subject to agreement to the Android Auto terms of use, which are presented to the user when the Android Auto application is downloaded to the user's Android phone. Android Auto vehicle integration is provided "as is," and Honda cannot guarantee Android Auto operability or functionality now or in the future due to, among other conditions, changes in Android Auto software/Android operating system, service interruptions, or incompatibility or obsolesce of vehicle-integrated hardware or software. See dealer for details. Only use Android Auto when conditions allow you to do so safely.
3. Pandora, the Pandora logo, and the Pandora trade dress are trademarks or registered trademarks of Pandora Media, Inc. Used with permission. Compatible with select smartphones. See: www.pandora.com/everywhere/mobile. Not all devices compatible with USB connection. Your wireless carrier's rate plans apply.
4. The Bluetooth® word mark and logos are owned by the Bluetooth SIG, Inc., and any use of such marks by Honda Motor Co., Ltd., is under license.